Ethereum has been steadily gaining 5% a day over the last week and is now reaching a new high of $2900. Ethereum is currently trading at a new all-time high of $2866, with a market capitalization of $331 billion.
New Month, New ATH
For the first time in history, Ethereum was able to reach $2,850, and it is on its way to surpassing $3,000. This will help the virtual currency to break its all-time high price and get closer to Bitcoin's market capitalization. While Bitcoin remains the most common virtual currency, its market share has fallen below 49%, and Ethereum's market share is approaching 15%.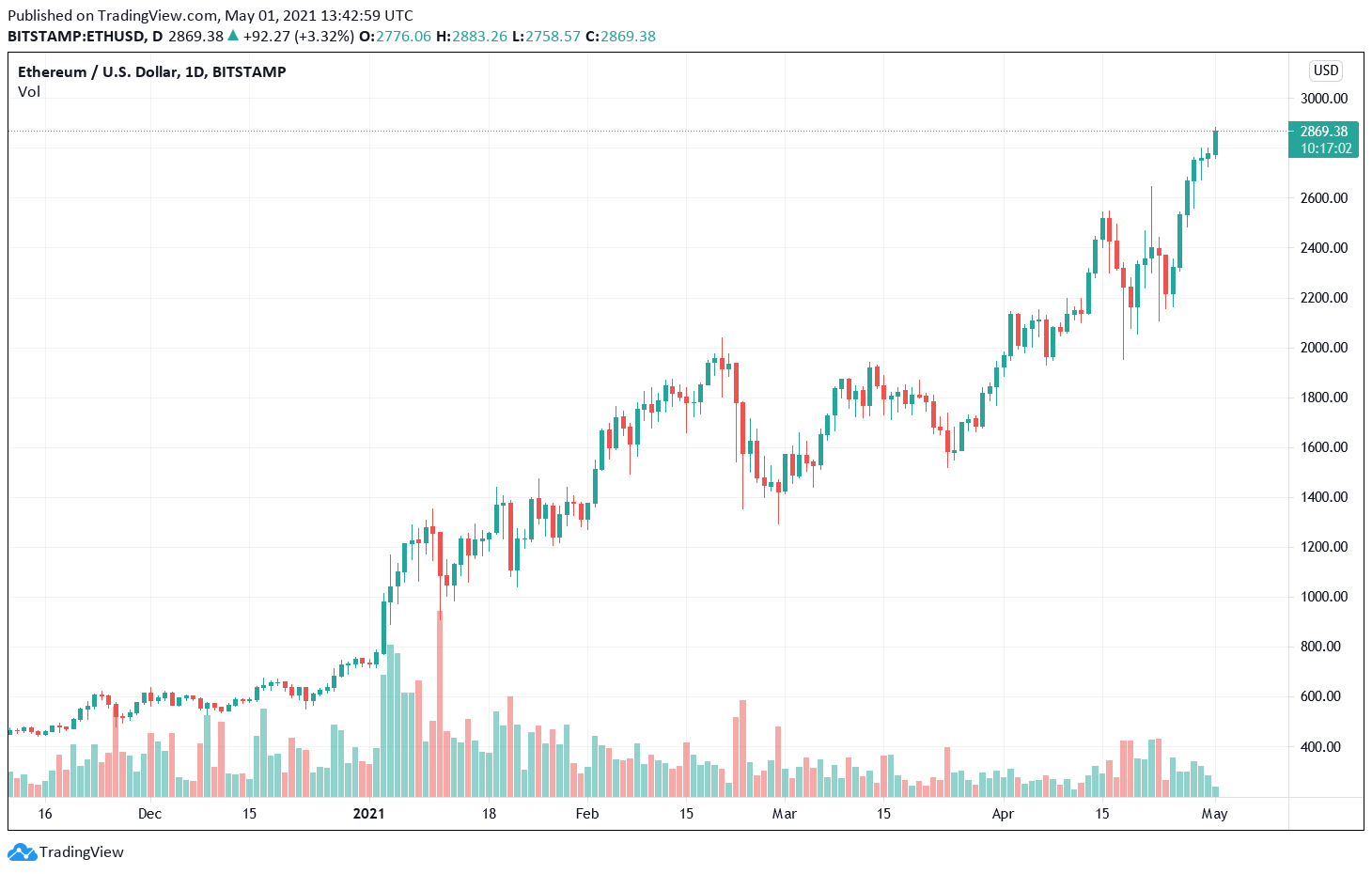 According to data analytics platform Skew, the recent ETH price rally coincides with an increase in spot trading volumes since mid-April.
5 BTC + 300 Free Spins for new players & 15 BTC + 35.000 Free Spins every month, only at mBitcasino. Play Now!
Analysts are optimistic about the ETH price surge, predicting that it will continue in the near future. A majority of market participants expect that the Ethereum price will rise to $10,000 or higher by the end of the year.
Bitcoin has crossed $58,000 in the last few hours and is now very close to $60,000, a high psychological level that will be critical to surpass in the coming days.
Bitcoin and Ethereum aren't the only virtual currencies that are rising in value. Binance Coin (BNB), Dogecoin, and Litecoin are all up. Binance Coin has risen by over 2% in the last 24 hours, bringing it up to $627.
Dogecoin continues to draw buyers, and it is now trading at $0.36, up more than 17%. After surpassing $272, Litecoin, the digital asset generated by Charlie Lee, is up 3.14 percent from yesterday.
Fundamental Reasons For ETH To Hit $10K
Market analyst 'Spencer Noon' has provided the top-ten reasons why Ethereum holds the potential to hit $10,000 by the end of 2021.
There's a massive demand currently for the ETH block space as the Ethereum blockchain overshadows its peers with the average daily fee paid around $18 billion.
NFT sales on Ethereum have been skyrocketing and have recently surpassed $600 million.
Ethereum-based Polygon network currently processes $1 million in daily transactions. It has also onboarded some of the biggest DeFi projects like Aave.
The Ethereum blockchain network currently has more than $50 billion in outstanding stablecoin supply.
As of date, the Ethereum blockchain network settles $30.5 billion of value every day which is twice that of the Bitcoin blockchain network.